AA 2004
Astro Atlantik 2004 will take place on 12-15 August at the Armstrong Brook Campground of Mount Carleton Provincial Park.
All activities will be take place in and around the cookhouse and observation will be done in the open camping area behind
this building, black dot on diagram below. Registration is $10.00 per person or, for families, $10.00 for the first person
and $5.00 for each additional family member. Registration will take place at the campground cookhouse and will entitle you to
participate in all activities including the Door Prize draw and the Star-BQ.

I will not be making camping reservations for everyone as I did last year. It proved to be a bit of a hassle and some people who
reserved did not show up, leaving us holding the bill since all reservations have to be paid when made. This year you will need to
make your own reservations. The diagram below shows the field camping sites which are # 29 to # 34 and # 44 to # 49. Other good sites
that are near the field or cookhouse are # 1 to # 8 and # 26. Site # 44 is a permanent trailer installation and I will be in site # 27.

Camping reservations can be made by calling the Saint Quentin office of the Dept of Natural Resources and Energy at (506) 235-6040.
Reservations must be paid by credit card at the time you make the reservation. Cost of camping is $11.00 Monday through Thursday
and $14.00 Friday through Sunday. The park gate is open at all times so if you arrive after 10pm, drive in, select a camp site if not
already registered and settle in for the night, then go to the gate in the morning and sign in.

For information on the park, you can call the park directly at (506) 235-0793.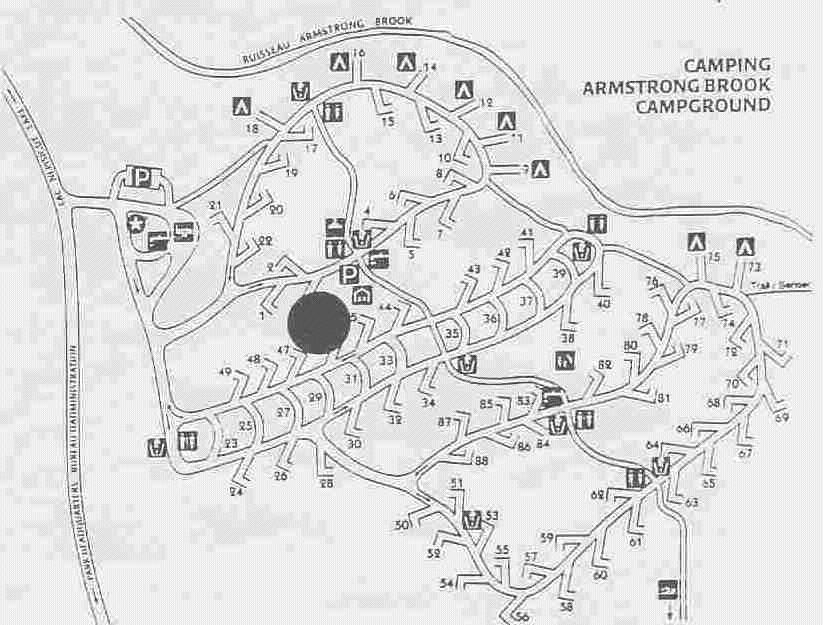 Schedule
Horaire Astro Atlantik 2004 Schedule
Thursday 12 August / Jeudi le 12 août
2200......... Observation
Friday 13 August / Vendredi le 13 août
1800-1815 Official opening / Ouverture officielle 1830-2000 Registration booth open / Kiosque d'inscription ouvert 2000-2130 Short talks or workshops/ Présentations courtes ou ateliers 2200......... Observation
Saturday 14 August / Samedi le 14 août
0900-1000 Registration booth open / Kiosque d'inscription ouvert 1000-1200 AGM (members only) / AGA (membres seulement) 1300-1400 Registration booth open / Kiosque d'inscription ouvert Astro swap shop / Échange astro
1400-1530 Workshops & solar observation / Ateliers et observation solaire 1600 Group photo / Photo de groupe 1700-1830 Star-BQ supper / Souper Star-BQ 1830-1900 Door prize draw / Tirage de présence 2000-2100 Short talks or workshops/ Présentations courtes ou ateliers 2115 Raffle draw / Tirage de la vente de billets 2200......... Observation
Sunday 15 August / Dimanche le 15 août
1900......... Site clean-up / Nettoyage du site 1000-1200 Solar observation / Observation solaire
---
Return to Welcome Page / Retour à la page d'accueuil